Not all private investigators have a background in law enforcement, but many do. If a person has been a police officer, then they have a good foundation for working as a private investigator (PI). It's a "good match." After all, both jobs share similar skills and characteristics.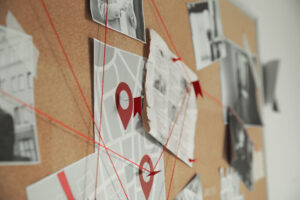 Think about it this way: if a cop has spent years investigating cases, that kind of experience proves to be invaluable when it comes to doing PI work. They've most likely had to investigate missing persons, fraud and other criminal cases in the past. They've learned how to gather key information, as well as how to interview subjects. And they're familiar with "the law" and legal processes thanks to their previous police work.
In general, a cop usually spends about 25 years working the job before leaving the force to either retire or try something else such as PI work. During those 25 years or so, they've been around attorneys. They might have been called to testify in court. And they most definitely had to file reports. All of these things help when it comes to PI work.
Imagine the network of contacts a private investigator with a law enforcement background brings to the job. Over many years they've met and worked with dozens if not hundreds of people in the community and beyond. They have a lot of contacts they can call for info or advice.
Those who worked in law enforcement had to learn professionalism or else they wouldn't have lasted! From their first days training 'til now, professionalism has been a key component of their job and who they were/are as people. Working in law enforcement, they've had to meet deadlines, be detailed in their reports (not sloppy), and they've had to look presentable for various meetings.
So does it make sense that you'd want to hire a PI who used to work in law enforcement? Definitely. For more info about hiring this kind of PI, call LawDog Security of Chicago at 773-233-5742.