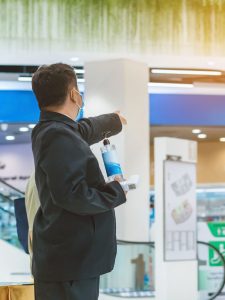 Few things have adversely affected the world more than the COVID-19 pandemic. In addition to the nightmare it's caused for families who have lost loved ones or those who have gotten sick from the virus, it's also forced businesses in all industries to pivot to continue operations during pandemic and acquiesce to the ever changing rules and standards set for companies.
One way to help transition your business to the new demands of the COVID-19 pandemic is to utilize commercial security services. Without question, security professionals can help your business improve the sense of safety and normalcy in your workforce.
For instance, if your business has customers on premises, the security professionals can serve as the "bad guys."  Countless videos have circulated of angry customers being told they have to follow company policy or state rules and do things like wear a mask inside or stay socially distant. This has led to some heated disputes and put employees in awkward predicaments as they are forced to do a job they're not really trained to do. Rather than wasting manpower, you could have a security professional in place who is trained in solving disputes and knows how to handle unique situations while ensuring there as little disruption is caused as possible.
What's more, a security professional serves almost as an objective third party. Even though he or she is hired through your company, it's logical to assume that he or she would be paid more respect when asking people to follow guidelines or leave, as opposed to say a young, part time employee that angry customers think they can pick on or manipulate.
Moreover, a pandemic is challenging times for all, and the uncertainty of things and the hardships caused by the virus could lead to people making decisions they normally wouldn't, or could cause opportunists to act more audaciously. Either way, having security professionals in place will serve as a proactive deterrent and help keep things safe and sound for employees and customers.
In the Chicago area, LawDog Security & Investigations works closely with our clients to provide the right security services for their needs. Our staff if comprised of active and retired law enforcement officers with decades of experience. For more information, contact us today.