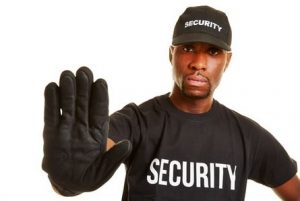 There's something intimidating about a police officer, isn't there? If you've ever been pulled over while driving, and a police officer approached your car, you know the feeling you got when that happened. It was clear that they were "in charge" and you had to respect them. Indeed, the police's authority and presence carries a hefty weight in society. They go through years of study and training to become police officers– it's not a job for the faint of heart. Being a police officer requires diligence, patience, "smarts" and other things that give them a well-deserved air of superiority.
If and when you're having an event or you run a building, it makes sense to hire off duty police officers to handle security.
Off duty police officers provide a visible police presence such that criminals are deterred from doing bad things around them. Because they're armed and able to arrest people, off duty officers strike fear into the hearts of those who want to commit crime because they know there will be dire consequences if/when they "get caught."
Besides being able to make on-site arrests if needed, it's a good idea to hire off duty officers as guards because they can always call their fellow officers for back-up should they need it. If and when there's illegal activity happening, an off duty officer has the power and authority to take proper action.
Off duty officers can serve in a number of roles at various places and for various events. Whether it's to guard banks or construction sites, hotels or parking lots, hospitals or bars, schools or churches, or office buildings, etc., know this: hiring off duty officers shows people in your business/community that you mean business. Not only are you showing support for public servants while giving them a job to do, but you're also communicating to guests of your place/event that they matter and you take their security and well-being seriously.
LawDog Security of Chicago utilizes both active and retired law enforcement officers with over 75 years of combined experience. Should you need their help, don't hesitate to contact LawDog Security at 773-233-5742 for more information.